Browsing all articles tagged with Urban Decay Primer Potion
I hadn't even heard of Jesse's Girl Eye Dust until I saw a review on
MakeupAlley
for them the other day. I was curious, so I went over to my local
Rite-Aid
where these Eye Dusts were $3.99 each. An awesome price, for what I've found to be an awesome product!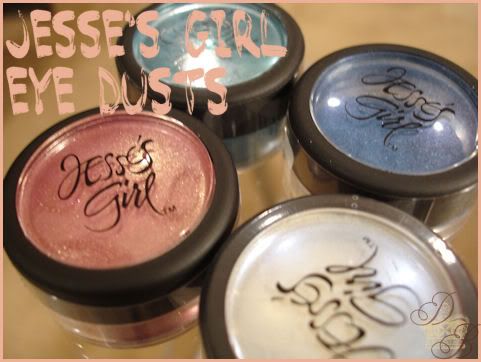 I purchased the shades "Blue Moon", "Trouble Maker", "Secret Weapon", and "Fruit Punch". Here are swatches and photos of these gorgeous loose shadows (applied wet — with Urban Decay Primer Potion):
These products could be compared to MAC's Pigments because they are super pigmented, shimmery, and easy to use. They are definitely a cheaper alternative for us budget beauty seekers. The Jesse's Girl Eye Dusts come in a variety of colors as well, as you can see on their website. Out of the colors I purchased, "Blue Moon" is my favorite, it is the perfect shimmery true blue. "Secret Weapon" reminds me so much of Pure Luxe's Aura Shadows — as it looks white but it gives off a blue/green glow.
The only downside is that the Eye Dusts don't contain a sifter, so the powder gets everywhere when you open it. In turn, these would be awful for traveling or taking them on-the-go. But if you are using them at home, and opening them over a washcloth or something… they are definitely pretty and worth a little mess. Also, be sure to use a primer with these, such as Urban Decay Primer Potion, or they will slide right off oily lids (like mine!).
Unfortunately, they are not available at every single Rite Aid, but if they have a Jesse's Girl Cosmetics section at yours — go check them out!
P.S. I just bought a new memory stick for my digital camera so I will be pumping out some tutorial videos for you lovely ladies this weekend!
What do you think of Jesse's Girl shadows? Have you ever tried them before? Want to? Let me know!

Sorry for the lack of updates, I've been a bit busy trying to organize some new stuff for this blog (hint: Giveaways, reviews, and goodies are coming!). So, here is a FOTW. It's a little late, and I don't love it… but I figured I'd post it up here anyway because someone might! Let me know what you think!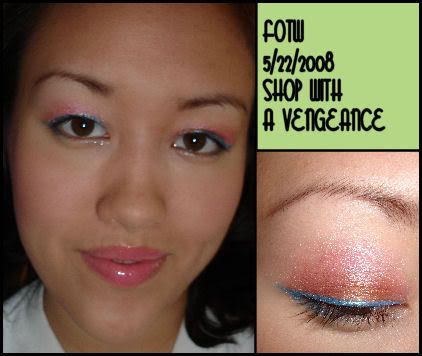 For this look I used:
Face:
Primer – Monistat Chafing Relief Gel
Milani Compact Minerals Foundation – Nude Buff
Ecco Bella FlowerCover Cover Stick – Beige
Revlon New Complexion Bronzer – Sun
NYX Blush – Pinky
Eyes:
Primer – UDPP
The Body Shop Brow Duo
About Face Loose Shadow – Wasted Intrigue
About Face Loose Shadow – School Girl
About Face Loose Shadow – That's So Camp (applied wet, as liner)
V.S. Beauty Rush Liquid Glitter Liner – Silver
NYX Doll Eye Long Lash Mascara – Black
Lips:

V.S. Very Sexy Lip Gloss in Minx
The other night I spent some time removing the "traces" of
Urban Decay Primer Potion
from it's original bottle. As most beauty lovers are well aware, the "UDPP" bottle has many flaws:
ie.
it seems like it's empty when there is still
a lot
of product left over. This is due to the fact that the odd shape of the bottle allows for product to be trapped where the applicator wand cannot reach.
Now, before anyone goes into a rant about how Urban Decay is gypping the public and ripping them off with this product… let me just say that
I don't believe this is true
. UDPP is a fantastic, cult-worthy product for girls like me with oily lids that would crease shadows and liners like crazy without it. I love this stuff.
It's very unfortunate that the bottle does not make the most of the product in there, but the truth of the matter is… Urban Decay is NOT ripping people off. You paid for X amount of product… ok, well it's not like Urban Decay didn't give it to you! The product is in there! It's just the unfortunate packaging that makes it seem like you didn't get what you paid for. And, to think, when this first came out everyone loved the "cute little genie bottle" design. Anyway, I know countless people have emailed and written to Urban Decay about this problem so I'm sure they are well aware.
Regardless, I decided when my bottle appeared "empty" with the applicator wand practically dry every time I use it, that I would pry this baby open! So, pry I did. I managed to melt a little bit of the bottle and then just peel off the circle of plastic at the bottom. This allowed for me to put a tool inside to scoop out the remaining product. Yes, it would've been more time efficient to just cut the thing open, but I didn't do that. And yes, I made a mess this way. But, bottom line is, I got SO MUCH primer potion out of the bottle that I was actually shocked. I knew there would be a lot, but I wasn't sure how much really. It was crazy! Additionally, the blogger who originally did this mentioned that it looks like ice cream, and it really does… that or nougat (mmm Snickers)!
So, I "depotted" it and put the primer potion into one of the craft jars I posted about previously. This should last me a very long time, since I don't wear eye makeup every day and you only need the tiniest bit of UDPP. Will I rebuy Urban Decay Primer Potion? I don't know, it depends on whether they change the bottle or not! I might try a new primer otherwise, perhaps the one by Too Faced that is said to be comparable.
Anyway, I made a mess and loved every minute of it. Except when the UDPP I got on my hands wouldn't wash off easily. That was kind of bad.
Have you depotted your UDPP yet? Do you think Urban Decay will change their Primer Potion bottles any time soon?
Here's how to get Shanna Moakler's dramatic Key Club of Hollywood makeup look!

How to do this look on a budget:
Start off doing the eye makeup, because since you are using a dark color, it might get messy and you don't want to mess up the rest of your face.
Use Urban Decay Primer Potion, or a similar primer, to prep your eyes for shadow.
Use your favorite dark liner to create a smudgey line on your top and bottom lids. Then, create a smokey eye using blacks and shimmery greys such as NYX "Black" single shadow and NYX Ultra Pearl Mania in "Charcoal".
Blend your shadow out with a shimmery silver shadow, like Ulta Mineral Eye Shadow in "Silver".
Don't forget to groom your brows and add a touch of white highlighter on the brow bone for extra sparkle!
Finish off your eyes by curling your lashes and applying a touch of lengthening mascara, like NYX Doll Eye Mascara or false lashes for an extra glamorous touch.
Now, wipe off any excess shadow fall out with some makeup remover, if necessary… then you can move on to the rest of your makeup!
Keep it remotely natural with a touch of foundation to even your skin tone, if necessary. Use a powder to lightly set, such as a finishing veil or MAC Blot.
Gently apply a peachy/rose blush to the apples of your cheeks, such as Revlon Blush Cream in "Just Peachy".
Lastly, apply a deep nude lip color, such as L'Oreal Colour Riche Lip Gloss in "Rich Nude" to replicate Shanna's pout.
What do you think of Ms. Moakler's look? Any comments or suggestions? Would you wear it? Let me know!
This past week I've been posting a lot of Eye Looks, so I figured I'd wrap it up with two deliciously simple looks for your viewing pleasure
"Apricot Shimmer" and "Strawberry Shimmer" are sparkly sheer beauties that are sure to please!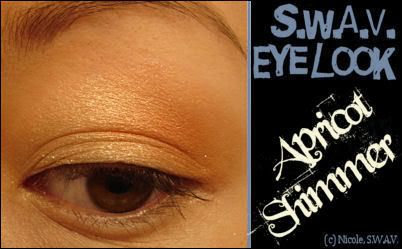 Milani Wet/Dry Eye Shadow in "Beach Sand"
NYX Ultra Pearl Mania in "Fanta"
MAC Fluidline in "Blacktrack"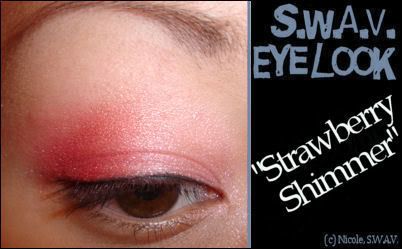 About Face (She Space) Pigment in "School Girl"
About Face Pigment in "Halos and Horns"
About Face Pigment in "Wasted Intrigue"
MAC Fluidline in "Blacktrack"
All shadows/pigments applied with a damp brush!
I never would really consider myself an eye makeup expert, so I think for the next few days I'll be focusing on non-eye-makeup related topics.
Any questions or comments, don't hesitate!
Yay! My first YouTube attempt!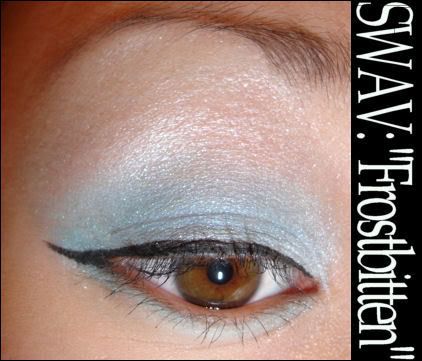 Let me know what you think!
Networks:
Recent Posts:
Popular Tags:
Sponsors: