Browsing all articles tagged with Swatches
I am head-over-heels in love with this lip gloss set from Tarte.  The Good as Gold Limited Edition Lipgloss Collection is absolutely fabulous for girls that love gloss and glitz.  Included are 15 mini lip glosses in beautiful shades that range from pinks, to nudes and reds.  And, as always, the Tarte formula is amazing; non-stick feel and pleasant scent.  LOVE LOVE LOVE!
I have swatched some of my favorite shades from the collection, which you can check out below:
I can't say enough good things about this.  If you're not familiar with Tarte glosses, you'll be pleased to know that they are formulated without parabens, mineral oil, petrolatum, synthetic dyes or fragrances.  Additionally, they include fruit extracts like gogi berry, acai berry, and pomegranate.  For $29, this is a steal!
Note: Some reviewers on Sephora.com have noticed problems with the cap coming apart – I have not experienced this issue and none of these glosses have broken on me yet.
What do you think of this collection?  Would you gift it or exchange it?  Let me know!
Check out this gorgeous shade ("Orchid") of Lip Ink from Palladio! I am a huge fan of lip stains because they last a lot longer than light glosses, don't rub off, and give a more natural look.
Palladio's Lip Ink comes in a felt-tip tube, similar to a permanent marker. The packaging is quite cute, actually, and very portable. It has a smooth feel when applying, and also a slightly fruity scent. On its own, the stain will last at least a few hours without fading. Palladio claims that this is a non-drying formula. As with all stain products, you want to be sure that you don't have dry areas on your lips before applying, as these will absorb more color.
For a fresh summer look, try this stain with just mascara and creme blush.
Check out Palladio Lip Ink, here, or pick it up at Ulta and Sally Beauty stores.
What is your favorite lip stain? Have you tried this one by Palladio?

Check out these swatches from my recent testing of Tarte's 'Green Siren' Natural Wax Cheek Stain! Who doesn't love Tarte's amazing cheek stains? Now, they come au naturel and free of parabens, mineral oil, petro-chemicals and other nasties!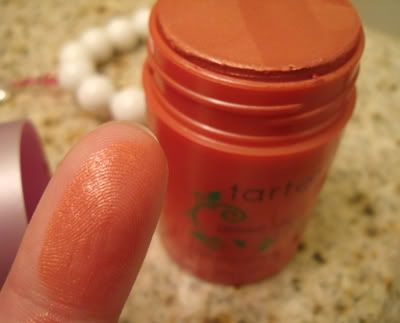 Tarte's Green Siren imparts a lovely "golden apricot" shade of creme blush stain that looks amazing with a tan. To apply, remove cap and use fingers, sponge, or direct contact to dab and blend the stain onto the apples of your cheeks. It's very easy and a perfect addition to any summer makeup routine.
Don't forget to take advantage of Tarte's Friends and Family Sale (40% off everything!!!) that ends TODAY, August 24th! Just use the code FF09 at checkout

I love these glosses! I mean, I'm an avid lip gloss lover regardless, but Vis-à-Vis really did an awesome job with these. I actually prefer these glosses to both MAC Lipglass (too sticky) and my previous favorite gloss by Clinique.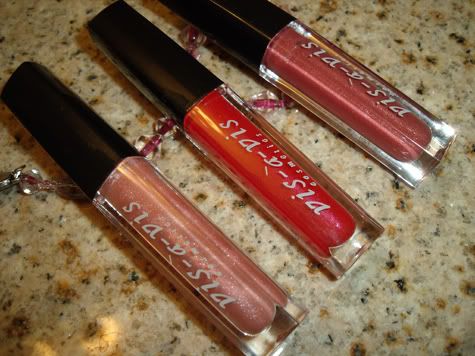 The formula has a medium consistency, it is not sticky but feels like you "have something on," which I like. It has a delicious, very faint, vanilla scent. The shades are beautiful! I tried Femme Fatale, Seductive, and my favorite, Innocence.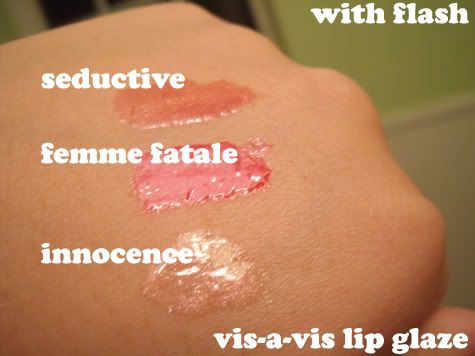 Each gloss has a nice balance of sheerness, color, and shimmer. I love the fact that the sleek packages have brush applicators, which are always so much better than doe-foot or other kinds.
You absolutely need to check these out. Visit Vis-à-Vis on the web to find out more information, right now they are 2 for $25!
Have you tried these glosses? What are your favorites?

We all know that wine, burgundy, and merlot colored nail polish is popular around this time of year, but for some people, finding the right shade of deep red is not always easy. If you are afraid to "go black" but want to add some depth to your polish, one of the deep plum, purple, and ruby hues in this kit will definitely do the trick.
I recently got
Nubar's Vineyard Collection
of eight decadent nail shades, and I must say, if you ever wanted to try a deep red but had any uncertainty – this kit is for you! The Vineyard Collection offers shades based on various elixers, such as: Corvina, Cabernet, Pinot, Dolcetto, Barbera, Merlot, Malvasia, and Muscato. In the attached picture, I am wearing the "
Dolce
tto" shade (I thought it would be good for Dolce Beauty)!
Nubar is a nail polish company that stands behind it's ability to offer carcinogenic free nail care products. This means no formaldehyde, no toulene, and no phthalate (DBP). As far as wear goes, I am really rough on my nails and I got four days out of this polish with a light top coat and only had one significant chip. The polish itself applied silky smooth, and covered well with two coats.
This collection retails for $45 and would be an amazing gift for any dark polish or wine lover!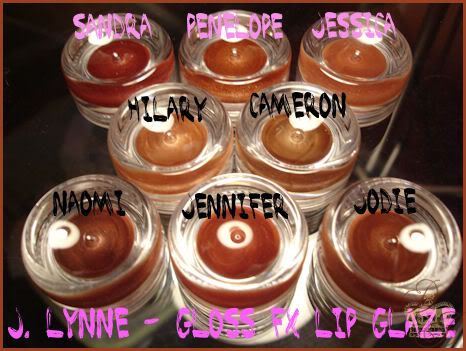 Here are some swatches of the
J. Lynne Cosmetics
Gloss FX Natural Lip Glaze samples I recently received. The colors are sheer and natural shades that easily glide on. I wish there was a scent or flavor to these, but they are fragrance free. Regardless, each gloss is loaded with natural ingredients such as Sweet Almond Oil, Beeswax, and Avocado Oil which make them good for your lips. They feel really smooth and pleasant when you apply them, and the color lasts nicely as well.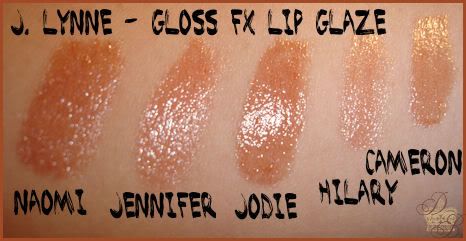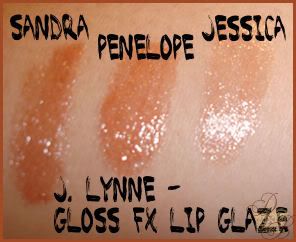 For some reason the colors look very similar here, but in actuality, some have more pink or red in them. I think it had to do with my camera settings. The best part is that these all have individual names to them, like names of girls, so if you have a friend named Jennifer you could get her the "Jennifer" shade as a gift!
These sell for $12. each full size, or $2. for sample size. There are more colors on J. Lynne's website!

Networks:
Recent Posts:
Popular Tags:
Sponsors: