Browsing all articles tagged with MAC
What do you think of Kohls?  My latest Kohls purchase consisted of Flirt! Cosmetics Big Flirt Thickening Mascara, and little else.  I can't seem to really get into the spirit of that store… I feel like the markdowns are not really markdowns and they should just say the price for what it is.  Anyway, Flirt! Big Flirt Thickening Mascara, $12, and the rest of the Flirt! line available at Kohls is, to my knowledge, made by Estee Lauder (the same as MAC and other prestige brands).  So, I was eager to try this mascara, knowing that it is an affordable mascara coming from a quality company. 
As the Flirt! Cosmetics website describes, Big Flirt Thickening Mascara is "a gentle fiber-enriched formula that fans out lashes, adding length and volume for a false eyelash effect."  I would compare this to my normal staple of NYX Doll Eye mascara.  My tube of NYX Doll Eye may be past its prime, as when I apply it now after a while it begins to irritate my eyes, expecially if I rub them.  Since they say you should replace used mascaras after 6 months of use to prevent bacteria from forming, etc, I think this makes a nice replacement.
Big Flirt Thickening Mascara comes in a squeeze tube (kind of weird for a mascara) with a large (not Benefit Bad Gal large, but still a pretty decent size) wand.  I like that there are fibers right in the one-step mascara to add volume.  I also like that this wears very well and does not smudge or smear throughout the day.
This mascara is available in six shades: Black Wink, Brown Wink, Real Teal, Blue Hawaii, Violet Vixen, Fuchsia Fusion.  I tried 'Black Wink,' which is a deep regular black, but would be open to trying some of the colored shades if I happen to have some Kohls cash left over next time I go there.
What do you think of Flirt! Cosmetics?  Have you tried Big Flirt Thickening Mascara?  Let me know your thoughts.
I, too, have been bitten by the gel eyeliner bug.  Most bloggers love the stuff, and I, up until recently, totally got swept up in the trend.  In fact, when I discovered MAC Fluidline Gel Eyeliner, I have snubbed other liners thinking that I finally found found my HG.  For that reason, when I was offered a sample of LORAC Front of the Line PRO Liquid Eyeliner, it found it's way to the back of my eye product drawer, untouched.
Recently, I decided to, be a bit more open minded.  Looking for something to use in a pinch, I grabbed Front of the Line PRO and began applying.  Wow, I thought to myself, this stuff rocks.
Here is why I like LORAC Front of the Line PRO more than MAC Fluidline:
No need for a makeup brush – I hated the "extra step" of using my slanted liner brush each time I wanted to apply liner.  It is SO MUCH EASIER to use Front of the Line PRO because it has a built in felt tip applicator that you hold like a pen.
More sanitary – The idea of scooping eyeliner out from a little pot sounds like a breeding ground for germs to me.  LORAC eliminates this problem with their liquid liner in a sleek felt tip pen.
No smudging at all – I found that even MAC Fluidline was smudging a little bit on me if I didn't use primer beforehand.
Dries quickly – No waiting!
So, there you have it.  For $22, you too can indulge in a super easy, convenient and fantastic liner.  It's only caveat is that you have to make sure you hold it upright while opening, or you'll get spattered with liner.  Call it common sense, but hey, better to know than to cover yourself (or your makeup counter) with black liquid.  If you do spill it, it washes off very easily, so no worries.  Also, it removes easily with eye makeup remover or face wash and water.
Have you tried LORAC Front of the Line PRO?  What did you think?
Nicole Ritchie recently did a photo shoot for BlackBook where she dressed up as newly-famed singer Lady GaGa. I loved the clean, dramatic look on Nicole and I actually think it suits her.
Want to get this look? Try a dramatic, smoky eye using shades of taupe and beige, such as the Essential Eyeshadow Palette in "Cool Neutral" by CARGO. Keep the focus on the eyes with lots of black liquid or gel eyeliner (you know I love MAC's Blacktrack Fluidline) and a volume-making mascara like DiorShow.
Try a matte lipstick like Revlon's Matte Lipstick in "Pink About It" (only $8. at Walgreens and great reviews!).
If you really wanna go all out, throw on a platinum blonde, blunt-bang wig while you're at it!
What do you think of this look? Let me know in the comments!
Image Credits:
Perez Hilton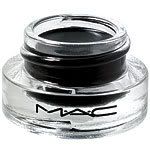 Oh, what would a cosmetic countdown be without MAC Fluidline?
What can I say about this miracle product? For those of you unfamiliar with MAC Fluidline, this is the holy grail of eyeliner — better than liquid, pencil, and cake. This gel eyeliner is budgeproof, smudgeproof, waterproof, foolproof, and lots of other 'proofs too.
I've made a video review comparing this gel eyeliner to another product on the market, which you can view here.
Of course, it's not without flaw — but MAC Fluidline easily makes it to the top of the list. I currently have Blacktrack, a rich black shade, and Dipdown, a chocolate brown. Fluidline retails for $15, which sounds high but this stuff lasts for ages!
Are you a Fluidline fanatic? What is your favorite shade?

I love Blot Powder! This sheer pressed powder by MAC is excellent for every day touch ups and controlling shine. I use the shade Medium Dark and it matches perfectly.
According to MakeupAlley, 656 people have used this product, 82% would repurchase, and it received a 4.3 out of 5 rating. Narrow it down to my shade, Medium Dark, and it has a 4.5 rating. MUA doesn't lie!
To be honest, I haven't found a pressed, shine controlling powder that I like more than this. It works, and I've almost used up my whole pan. Its lasted a long time though! I will definitely repurchase this product. It sells for $21 at all MAC locations.
Do you use MAC Blot Powder?
Love it, hate it? Let me know!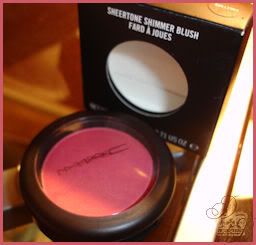 MAC Dollymix Sheertone Shimmer Blush may have received a flattering
post
on Dolce Beauty this past November. But, that's nothing compared to how flattering Dollymix is on my cheeks!
I really, really, like this blush. I've recently come to be slightly obsessed with MAC. Only slightly! I know I was never really into it before, but the products I've been trying lately are starting to sway me. Dollymix is awesome quality, just like the rest of MAC's products, and I got it for a steal at the Estee Lauder Cosmetics Company Outlet.
Correct me if I'm wrong (maybe a MAC-a-holic will step in here), but I believe the Dollymix shade was actually introduced in 2007 as part of the Barbie Loves MAC collection. Nevertheless, I bought it THIS YEAR, so, it's number eight on my Top Ten!

Networks:
Recent Posts:
Popular Tags:
Sponsors: