Browsing all articles tagged with L'Oreal
Here we have the lovely Sofia Vergara in natural brown and rose colored makeup for the 15th Annual People en Español '50 Most Beautiful' Issue Celebration.  Love her makeup?  Check out the tips below to get her look!
For Sofia's flawless face, start with a medium or buildable coverage foundation and set with matte powder.  If you're pale, try a natural looking bronzer, like Benefit Hoola, to get Sofia's natural tan glow.
Use a primer on eyelids, like Urban Decay Primer Potion or LORAC Behind The Scenes Eye Primer.  Then, apply a bronzed brown shadow, like NYX Loose Pearl Eye Shadow in Walnut, to your lids.  For a more intense look, dip your eyeshadow brush in water or a drop of Visine to moisten the shadow before applying.
Groom eyebrows and define with a brow pencil or eyebrow wax.
Use a black-brown mascara, like Almay One Coat Thickening Mascara in Black Brown, to define top and bottom lashes.
Lightly apply a dusty rose blush to the apples of your cheeks.  Try NYX Powder Blush in Dusty Rose.
Last but not least, the lip color.  To get a deep nude like Sofia's, try L'Oreal Color Riche in Rich Nude.
What do you think of Sofia's makeup look?  Would you wear it?  Let me know!
Have you seen this product?  L'Oreal recently started advertising Studio Secrets Professional The One Sweep Eye Shadow, an eyeshadow trio that is meant to be applied in "one sweep" for the perfect professional eye shadow look.  The compact comes with it's own foam applicator that is uniquely shaped, supposedly to allow you to sweep the three colors at once on your lid.  At around $10, in drugstores, this is a bit pricey for a non-high end eye shadow.  The compact comes in six color varieties, ranging from neutrals to specific colors for your eye color.
While this idea seems good in theory, the reviews I've found online vary and I haven't seen anything positive.  Most people are saying that the colors are not bold enough (a common complaint with L'Oreal shadows, and likely the reasoning for their launch of the HIP line), and that the applicator just plain doesn't work as it's supposed to.  I could see this being very possible, because, come on, people's eyes just aren't all shaped the same!  Apparently this has been around for a while, because The Muse posted about in back in last November!   It doesn't look like anything I'd want to try, I'll say that much.
What do you think of The One Sweep Eye Shadow?  Have you tried it?
By now, you may have seen the commercials for L'Oreal Infallible Le Rouge lipstick featuring Gwen Stefani.  Gwen looks lovely with her signature red lip that doesn't wear off and stays smooth using L'Oreal Infallible Le Rouge.  But does this product really live up to its claims?
At first glance, L'Oreal Infallible Le Rouge lipstick (roughly $9, at major retailers and drugstores) looks like any other lip product on the market.  It comes in a stylish clear tube form that shows the color right through the lid.  I purchased the shade #130, Enduring Berry, because it looked like a blue-based berry shade that would flatter my skintone (and help my teeth look brighter).
Le Rouge lipstick applies smoothly, and looks pretty similar to the shade in the tube.  Don't be fooled by the reflective red shade on the cap, that's just part of the packaging – not a color indicator!  Unlike other long wear lip colors, this product doesn't cake, dry up, or require multiple steps.  I love this fact, because my lips can be dry or troubled at times.  I do suggest using a lip liner with this, as it can smear a bit around the lip line.
I've noticed that this lipstick doesn't wear forever, but it lasts a pretty long time.  Overall, I'm very pleased with this product.
Have you tried L'Oreal Infallible Le Rouge lipstick?  Let me know your thoughts!
Ever since I started watching "The Nanny" reruns on Nick at Nite, I have decided that my old hairstyle just wasn't BIG enough.
I love the look of hair with big volume, and Redken is working toward making my life a bit easier in accomplishing this. I have a lot of hair but it seems to fall flat more often than not. Apparently, this is a common phenomenon.
"Many of my clients with fine or flat hair come into the salon looking for new ways to add volume and body without leaving hair sticky, crunchy, or gritty," says Rodney Cutler, Redken Brand Ambassador and owner of the Cutler Salons. "The new Body Full products address the specific needs of fine and flat hair resulting in long-lasting volume."
The Body Full collection consists of the
Shampoo
,
Light Conditioner,
Volume Amplifier
and
Instant Bodifier
. I really like the shampoo and conditioner, as well as the Instant Bodifier ($16. at
Redken.com
). I just apply it before heat styling to my roots and watch it add lift and thickness to my hair. Also, while styling I use
L'Oreal Elnett
(the best hairspray ever, minus the scent) to give hold and shine. I use a large barrel ceramic curling iron to give my hair lift and curl. If you'd prefer to style while blowdrying, use a large round brush.
Don't forget the poof!
Do you like big hair? Let me know what you think.

Who says you can't have great beauty products for a steal? Marie Claire has just voted
Pantene Pro-V Beautiful Lengths Conditioner,

$3.99

, one of their Best Products of All Time
!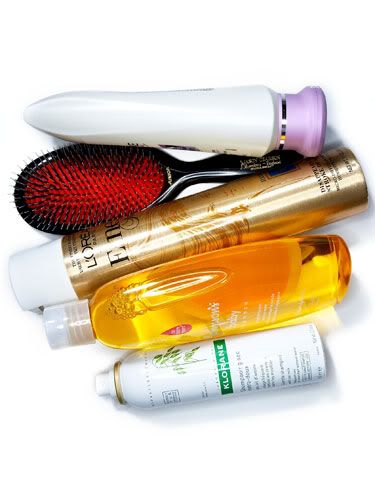 Also on the list:
Mason Pearson Junior Brush, $126 A hairstylist's best friend, these nylon-and-boar bristles make blowouts a breeze.
L'Oréal Elnett Hairspray, $13.99 The ultimate backstage updo glue that miraculously brushes out without flaking or stickiness.
Johnson's Baby Shampoo, $3.29 Gentle enough for overprocessed strands, this no-tears formula also removes stubborn waterproof mascara.
Klorane Dry Shampoo, $18 Spray on roots to absorb oils and odors for second-, third-, or fourth-day restyling.
I have been dying to try Elnett hairspray but I often forget to pick some up when I am at Target (the only place that I've noticed it, locally). I'm surprised that Johnson's Baby Shampoo has made the cut, as I didn't have luck when I tried switching over to that shampoo.
What do you think of this list? Let me know!
Story Credit:
Marie Claire

L'Oreal has released their special edition "
The Color of Hope
" Cosmetics Bag filled with inspirational shades of their best-selling products. According to L'Oreal, this limited edition cosmetics collection highlights the universally flattering shade of mauve with vibrant teal accents (the color symbolizing ovarian cancer awareness).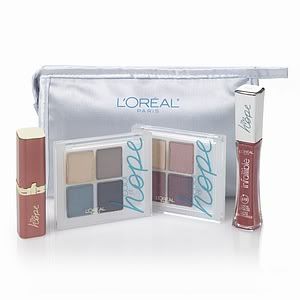 Best of all, L'Oreal Paris will donate $5 from the purchase of each bag to the Ovarian Cancer Research Fund (OCRF).
The Color of Hope Cosmetics Bag signifies their ongoing commitment to the fight against ovarian cancer.
Included in the L'Oreal Cosmetics Bag:
L'Oreal Wear Infinite Pressed Eye Shadow Quad in Petals of Promise 515
L'Oreal Wear Infinite Pressed Eye Shadow Quad in Bouquet of Strength 215
L'Oreal 6 Hr Never Fail Lip Gloss in Color of Hope 531
L'Oreal Colour Riche Lipstick in Color of Hope
The Color of Hope Cosmetics Bag retails for $29.95 and is available at drugstores nationwide and Drugstore.com.
I think it is an excellent idea, but L'Oreal must keep in mind that it is a bit pricey (especially considering their items are occasionally BOGO). For the same $30, a makeup-lover could get two items from MAC!
Would you purchase this bag?

Networks:
Recent Posts:
Popular Tags:
Sponsors: