Browsing all articles tagged with Kim Kardashian
International celebrity makeup artist Dimitri James of Skinn Cosmetics speaks what we are all thinking: Kim Kardashian has truly redefined sexy for her generation. With her fierce curves and signature smokey eyes, she is an undeniable fashion and beauty icon. As her nuptials are fast approaching, James predicts Kim will keep to her smokey eye for the big-day, but surprise us with an elegant edge.
The date is set, the plans are made and the wedding bells are soon to chime. Kim Kardashian has had a whirlwind romance with fiancé Kris Humphries and their wedding is already the talk of the town. Predictions are flooding the news about her gown and her location, but not much has been said about her marriage day makeup. Dimitri James' lady-like, smokey eye prediction comes with a step-to-step guide to its recreation.
Step 1: Add the Smoke
Cover the lid fully in a smoky grey-brown shadow to lay the foundation. Then add a darker carbon shade to contour the crease and corners of the lid. Take your time to blend in the colors for a fabulous and effortless look.
Step 2: Outline the Eye
Use a shiny black smudgestick liner to outline the eye rim and tear line to make the eye truly pop. Making sure to smudge the black liner creates a dramatic, but not over done look.
Step 3: Emphasize the Brow
Highlight the brow bone with an Ivory tone shadow for insured intensity in your eye look.
Step 4: Long Lashes
Add a full band of lashes to fringe the upper lashes as well as single lash extensions to fill in the lower lash line to achieve full eyelashes you won't be able to help but bat.
Step 5: Flawless Skin
Copy Kim's always-flawless coverage with a plasma foundation and cotton & mineral powder. You'll feel as beautiful as you should on your big day, night out or laidback brunch.
Step 6: Blush & Kiss
Add a soft beige pink blush to give subtle coloring to the cheeks and use a creamy, glossy lip tone to create undeniably kissable lips. When creating an intense eye look, be sure to play down the lips with light pinks or nude colors.
Without a doubt we will all be glued to our TVs to see what angle Kim will take with her wedding day look, but it is safe to say that the smokey eye will be present when the vows are passed.
Dimitri James will be featured on Shop NBC on Friday, September 9 – be sure to tune in!
Sometimes our biggest fears can create the most exciting changes, and for most women, a change of hair color can be dramatic and scary. Rebecca Friedman, celebrity colorist expert at Goodform Salon in Hollywood (Kim Kardashian's exclusive colorist) gives her tips on the best questions to ask your stylist before you color, and how to find the right tone for your hair's texture.
6 QUESTIONS TO ASK YOUR STYLIST BEFORE A COLOR CHANGE:
What is a realistic level of lightness for me to achieve given my current hair color?
I've had previous chemical treatments on my hair; will this effect how light I can go?
What tones will best suit my complexion?
Will the texture of my hair change after I lighten it?
How often will I have to come it for touch ups?
Do styling products for color treated hair really work?
I recently went to a local salon to get heavy highlights put in my hair, and I must say, it is very important that you go somewhere reputable and trust your stylist. My stylist, Nicole, was very knowledgeable about the products she put in my hair and gave me a realistic expectation on touch ups. I was careful to inform her that I had previously dyed my hair, as they NEED to know this in order to use the right color products for previously color-treated hair. My stylist also made sure that she blended the colors to work with my dark natural color rather than simply what was in the color book.
I think these tips are very useful and would certainly recommend all Dolce Beauty readers ask their colorist these questions before making a color change!
What do you think? Add your tips in the comments below!
Looking for a new summer hairstyle?  It's not too late!  You, too, can get Kim Kardashian's Playful Ponytail or Selena Gomez's Side Braid before the summer is over.  Check out the great tips from UNITE Hair Care below:
According to UNITE Hair Care Founder and Stylist, Andrew Dale, these three looks have become increasingly popular because women are always looking for chic hairstyles that look natural and are easy to do.   All products mentioned are available at unitehair.com.
Tousled Beach Waves: "Starting on damp hair, spritz a detangler throughout strands from root to tip. Look for a detangling spray that will nourish and protect hair from UV rays and damage from heat-styling tools. Try, UNITE 7 Seconds ($26.25) and allow hair to air-dry. Next, create volume and texture that will produce the 'tousled' and 'undone' look, by using a volumizing product that will not add weight to hair, try UNITE Expanda Dust ($26.25). This translucent powder will dissipate into hair and thicken it, giving body all over. Using a 2 inch curling iron, take random sections and curl alternating from front to back, for a piece-y look. Finish off by using hands to separate the curls so they're slightly undone, and spray with UNITE Tricky Lite ($31) that will give hold and shine."
Playful Ponytail: "I love turning up the volume on a basic look like the ponytail because it's so simple but makes such an impact. To get the look, spray damp hair all over with UNITE's Boosta Spray ($26.25) that builds overall volume but without residue. Next, blow out hair using a round brush that will continue to build the volume. Once hair is dry, use hands to pull hair up into a ponytail (a brush will only flatten the volume you created), aligning it with the tip of your ears and securing with an elastic band. Smooth any flyaways with the UNITE Go365 Hairspray ($31) that offers 3-in-1 levels of hold."
Side Braid: "This look is a great alternative to wearing hair up for those who have long hair. The braid needs some grip so it doesn't slip out and come undone. To do this, simply use some of UNITE's Second Day ($25) to dry hair, which will give a 'worn' look while delivering hold for the braid. Next, using fingers, pull hair loosely to the side and separate into three sections. Braid off to the bottom and securing with an elastic band."
What do you think of these looks?  What is your go-to summer style?  Let me know in the comments.
There has always been talk about the future Mrs. Kris Humphries, Kim Kardashian, and her famous figure, but a topic that hasn't really been mentioned is that glowing tan skin Kim is always sporting!
Kim recently stepped out to the Glamour Women Of The Year Awards in London looking stunning in an elegant black gown with her hair slicked back into a low bun. Dripping in gorgeous jewelry, Kim looked positively regal at this event. Of course, her signature tan complexion was shimmering while the flashbulbs of the paparazzi went off, enhancing her glow.
So, how does she do it? And, more importantly, how can you? It looks like Kim is definitely using a shimmer product on her skin that gives her that glowing, shimmery sheen. There are many products on the market that will accomplish this look. While shimmer creams and balms are readily available, I find it much easier to dust on a shimmer powder just to the areas I'd like to highlight. An awesome all over shimmer powder like Borghese Splendore All Over Body Bronzer, $29.50, is easy to sweep on for a subtle sun-kissed glow. This look is perfect for summer, with, best of all, no sun required!  Check out more about this Borghese product here.
How do you get your glow on? Let me know in the comments below!
Want to get a celebrity look at a fraction of the cost? Check out this gorgeous natural lip look from celebrity starlet Kim Kardashian! Affordable makeup company E.L.F. (
EyesLipsFace.com
) says you can recreate a look like this with some of their easy lip options.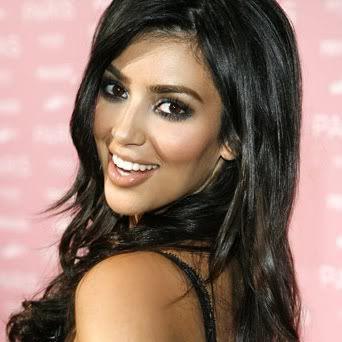 Line lips with Studio Lipliner & Brush in Natural ($3). Next, apply Mineral Lipstick in Natural Nymph ($5) over the entire lip area and finish off with Studio Minty Lip Gloss in Seattle ($3), a pretty ethereal gloss that give just the right amount of shine and sparkle.
What do you think of this lip look? Would you try E.L.F. products? Let me know!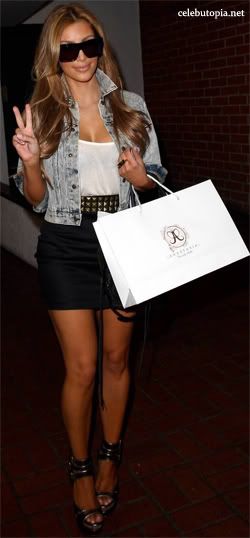 Check out this gorgeous photo of Kim Kardashian at Anastasia Salon. According to
KimKardashian.com
, Kim tested out a Lash Lifting Mascara that she loved.
Kim states, "I swear, I literally need one coat and my eyelashes have so much volume and curl. Usually I feel like I have to keep applying coats to build up volume, but this mascara is perfect!!! It has hard waxes and synthetic polymers in that help build lashes to give volume."
Sounds awesome to us!
Anastasia Lash Lifting Mascara is available at the salon, Nordstrom, and Sephora for around $22!
Have you tried Anastasia products? What is your favorite lash building mascara?
Image Credits:
Celebutopia.net

Networks:
Recent Posts:
Popular Tags:
Sponsors: