Browsing all articles tagged with Haul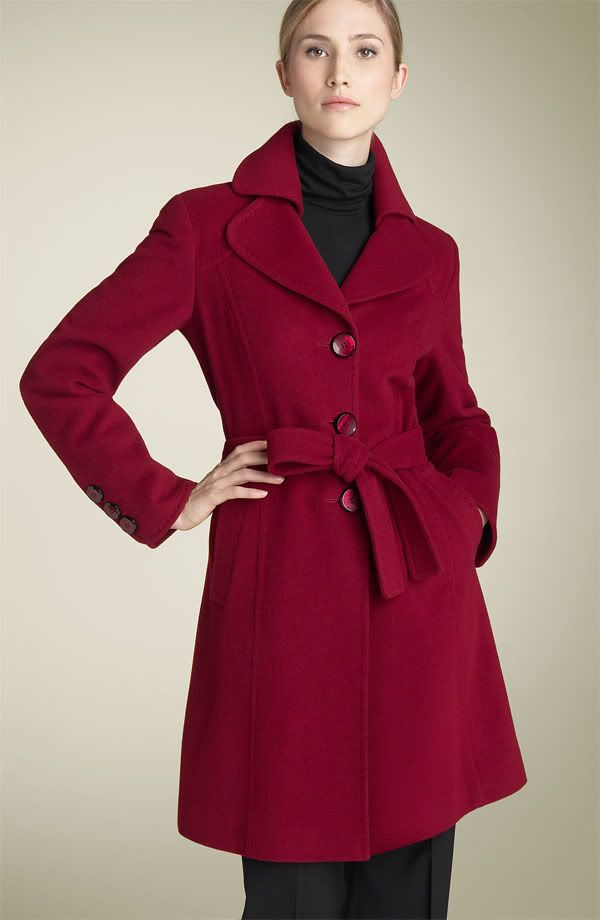 I just recently bought this red Angora and Wool winter coat from Lord & Taylor. Despite the fact that I really like the coat, there are a few issues I'm having with it.
First off, I bought a petite size because there were no regular sizes at the store, and even though my arms are proportionately short for my body (true story), the sleeves on the coat seem short when I bend my arms a certain way. Or like, when I'm driving. Is this normal? The sleeves look fine when I am just walking or standing.
Also, I now notice on Nordstrom.com that the coat does come in regular sizes, and happens to be about $20 less on their website as well.
Ugh. It looks cute though. I mean, when I wear it I feel as if it looks proportionate and nice. But, I just hate the idea that I have to pay this coat off on my credit card now when it doesn't fit 100% properly and it costs less money somewhere else!

Recently the
Jersey Shore Premium Outlets
opened in my area, and I was super excited because I really wanted to go to the Estee Lauder Cosmetics Company Outlet (the nearest one otherwise is like 3 hours away). I just made a small purchase of Clinique Supermoisture Makeup and MAC Love Connection Eye Shadow while I was there, but I'm sure I'll be back for more shortly.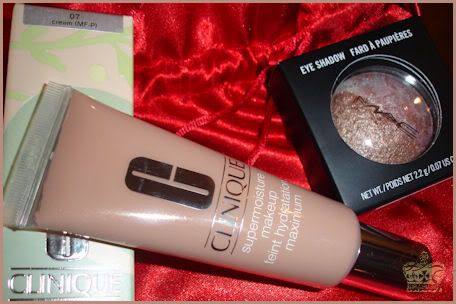 I love love love the Clinique Supermoisture Makeup. I was previously using Revlon's Colorstay for Combination/Oily skin and I think it was drying me out in areas that don't need drying. So now I use the Colorstay on my forehead and t-zone, and the Supermoisture on my cheeks, chin, nose, and other areas.
This Clinique product has mixed reviews on MakeupAlley because it seems that some people don't like the shimmer that is in there. I find that it is only noticeable when you swatch it on your hand in a certain light, and when you actually put it on and set with powder you can't really see it at all. The staying power was awesome on my skin (I only put it on the dry areas) and it just evened out my skin tone and made me look flawless. No breakouts and just a soft, healthy illumination. I don't care what other people say, I think it's a keeper!
As for the new CCO, I really liked the fact that they accept returns, because although the MAC Love Connection shadow swatched gorgeously, the perfect warm gold glitter/shimmer shade, I didn't really like it on my eyes. I think I'll be taking it back!
Have you made any hauls lately? Let me know!

Hello ladies,
Sorry its been a bit slow around the blog — I've been working on school stuff and other "real life" things. Like so many of you, I just had to go online today to take advantage of Sephora's Friends and Family event (20% off online promo code:
FF2008
)! Unfortunately, I didn't have a ton of money to spend on this, but recognizing the deal, I knew I
had
to buy something.
So, I purchased Lolita Lempicka's self titled perfume, one of my favorite fragrances (fragrances are never on sale, so this was pretty much amazing). Since I got the 1 oz size, I had to buy something else in order to get free shipping. I debated between the Jack Black lip balm (this looked super tempting) and various items in the Napoleon Perdis collection which seemed to be majorly discounted. I settled on one of the Sephora by OPI Nail Colors, and was on my way to the checkout.
I also discovered if you go to the search box and type in "Sale" it takes you to the sale items. Which seems very obvious, but they don't have a link for it up top!
Anyway, the site was loading so slowly — probably because of all the crazy shopping thats going on!
So, for $43.66, I got the perfume I wanted, a nail polish, my three free "smart" samples AND a deluxe sample! Ohh Sephora, how I love thee.
What kind of goodies did you get from the FF sale?

The other day I stopped by my local Macy's Clinique counter, a place I have neglected for quite some time. I decided that I wanted to purchase their Black Honey Almost Lipstick (a cult classic) and Juicy Apple Long Last Glosswear SPF15.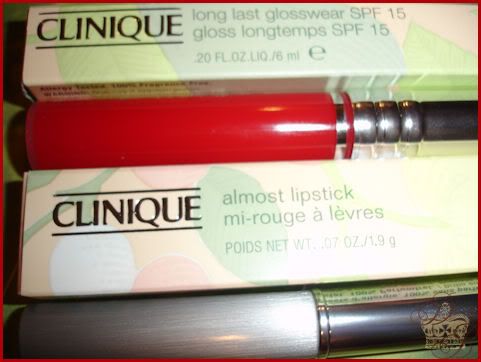 Like so gals many before me, Clinique's Black Honey was probably the first real color makeup I had ever tried (playing around in my Mom's makeup at like 7 years old). The color is completely wearable, even though it looks super dark in the tube. It is very sheer and layerable as well.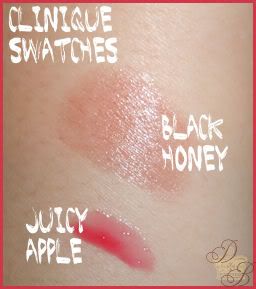 I love the Juicy Apple gloss! It is fragrance and flavor free, as all Clinique products are, but it gives the best shiny sheer true red lip! This is a bright, cherry red, and it is gorgeous. The only downside to the gloss is that it is a bit sticky (but that's what makes it last a long time!), so don't wear this on windy, hair-in-the-face days. Unless you just can't help yourself
Oh, also, today I made my very first soup! I know this is unrelated, but I love to cook and bake, so I figured I'd share. It was New England Clam Chowder from scratch, perfect for this cold, windy weather. I even started out with raw clams! I am really proud of myself, as it turned out very well. My mom even ate a whole bowl of it, and she is very picky about what she eats.
What are your favorite items from Clinique? Got any soup recipes to share?

I went to the mall tonight and decided to stop in
Charlotte Russe
, a trendy store aimed at teenagers that I don't usually go to. Regardless, I picked up some cute clothes and I was pretty happy with the selection there!
Here's exactly what I got:
Suede Slouch Boots in Grey, $29.99 (A good alternative to my Emus, I think — I'm sick of that Ugg look anyway)

Plaid Flats, $18.99
The shoes were buy one, get the second pair for $10. (Too cute!)

Lace Camis, 2 for $15 (Good staple items, and they are long — which I like)

Blu Chic Velour, $16.99 each – Buy One Get One 50% Off
What do you think? Let me know!

I am really starting to become a major Benefit fan. I just tried PosieTint for the first time tonight (I know I am way late on that phenomenon) and I loved it! Its just the perfect shade of pink, not too warm or too cool, and it looks great on lips and cheeks.
I also bought Benefit's Hoola, which I have tried before. My current bronzer (Revlon New Complexion in Sun) has a bit of a shimmer to it, and I think I really prefer the matte bronze look that Hoola offers. Also, I think the box powders are so cute, so I wanted to add this to my collection! I now have just Hoola and Thrrrob!, but I'm sure I will accumulate more in the future.
For buying these two items, I got a GWP (gift with purchase)! It is a duel-sided Her Glossiness lip gloss with "My People Your People" on one end, and "Don't Hear It From Me" on the other. I am debating giving it up as a giveaway on here though, because the last thing I need is another gloss. It is in it's package, and unopened — rest assured. So, leave me a comment if you think that is a good idea and maybe I'll put the giveaway up.
On a side note, after the mall, I got in to a car accident! This is my third accident in three years of driving, only one of which was my fault. Why do I have such bad luck?! I am a good driver! It's actually weird because my boyfriend's sister got into an accident today too! This time, I got rear-ended by an older man while stopped at a red light. Luckily, we were both fine, minimal damage to the cars, etc. Regardless, I'm a little annoyed because my fairly new car now has a negative on the Carfax report as long as he files the claim. But aside from that, no whiplash or anything to speak of as of yet, so I guess I'm good. Also, while giving me all his insurance info, he dropped a $20 bill on the ground, which I promptly picked up and *GASP* said, "Hey, you dropped this," because, that's the kind of person I am. Sigh.
Anyway, hope your weeks are going well!

Networks:
Recent Posts:
Popular Tags:
Sponsors: