Browsing all articles tagged with Gossip Girl
I spent my entire high school career watching Blair Waldorf and Serena van der Woodsen on Gossip Girl take the streets of the Upper East Side with their exquisite fashion sense, class, and savoir-vivre.  I found myself watching each week for their clothes, accessories, and fragrances. I remember that Blair wore Chanel No. 5, one of the most renowned fragrances to date. After watching the episode, I wandered into Sephora, deciding that I needed a signature fragrance. I was looking for something that I could wear to my econ lecture and also to dinner later in the evening. I wanted to answer the same way to everyone who asked me what I was wearing.
I stumbled upon the Jimmy Choo Eau de Parfum and immediately fell in love. Not only did it provide the perfect balance between sexy and easy-going, but also the name had everything I needed. The words Jimmy Choo are synonymous with towering heels that dominate the runway with every strut. Wearing Jimmy Choo, I felt chic, elegant, and ready to take the town. The Jimmy Choo Parfum provides its own pair of invisible stilettos that I spray on each morning. The 1.3 oz bottle is $55, but I would recommend the rollerball. At $24, it's priced just right and can fit anywhere, even in your clutch before a night out.
Did you see tonight's episode of Gossip Girl? We all knew Serena Van Der Woodsen was going to get in trouble with Tripp… it was only a matter of time. Regardless, in real life Blake Lively is living it up in high fashion styles and glamorous events. Blake's recent outfit choice here is turning heads and inspiring bloggers nationwide:
I guess Blake Lively's fashion here is inspired by the underwear-as-outerwear look… only she apparently goes braless. I am in love with the white blazer! If you've got it; flaunt it.
What do you think of this Marchesa outfit worn by Blake Lively at the New York premiere of The Private Lives of Pippa Lee?
Needless to say, I think Blake looks daring, bold, and lovely. Truthfully, it's no more revealing than a plunge neckline on a gown.
Do you think this look is inappropriate or stylish? Let me know!
Image Credits:
The Huffington Post

In the most recent episode of Gossip Girl, attention was called to the stylish ensemble worn by our favorite fashion-forward prep, Blair Waldorf (Leighton Meester).
My sources have just informed me that the python peep-toe boots Blair sported in The Grandfather: Part II, by Alexandre Birman, are available at Bergdorf Goodman for a mere price of $595.
The Oscar de la Renta metallic jacquard dress worn by Blair is available at Net-a-Porter for $2,290.
Oh, to be a Gossip Girl starlet!

As we all know, the Emmy's are a fantastic opportunity for young starlets to parade in gorgeous gowns. Without further ado, check out the lovely girls from Gossip Girl at this year's Emmy Awards!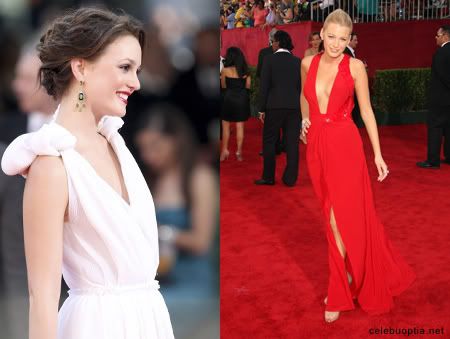 I think that Blake Lively looked stunning in this red gown, but I would've loved to see her hair in different hairstyle. Her signature beachy waves would've looked great with this dress. Leighton Meester shined in this white gown, but I am not really a fan of the shoulder poofs on the dress!
What do you think of Blake and Leighton's looks?

Image Credits:
Celebutopia.net (1, 2)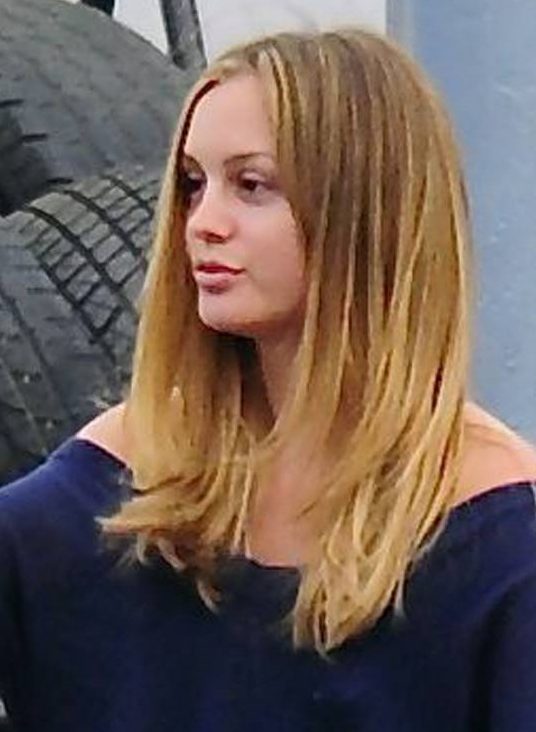 Are you as excited as I am for this upcoming episode of Gossip Girl!? I have to write a paper and study for finals, but I'll surely be watching in between!
Speaking of, I found this photo of Leighton Meester (aka Blair Waldorf from Gossip Girl) as a blonde in her new movie, The Roommate on Celebutopia.net. I think that usually Leighton's hair looks stunning and that she is gorgeous as a brunette. The blonde? Not so much.
It seems in the picture that she is too pale and not rosy enough to carry off a blonde 'do. Don't get me wrong, she is beautiful no matter what but the blonde hair just detracts from her usual attractiveness.
Granted, I don't know the basis behind this scene in the movie, but it looks like she is not wearing any makeup either which is not necessarily a good look with such a wash-out hair shade.
What do you think? Does Leighton look better as a blonde or brunette?
Let me know!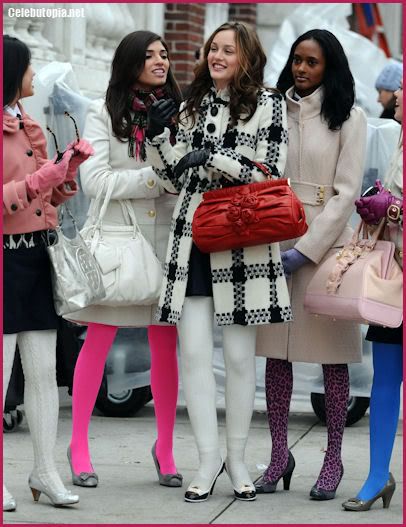 Speaking of Gossip Girl, it sure is shocking to see Blair's team of devious socialites wearing such vivid colors and patterns! All the better to stand out in a crowd, we say! You can pair these vibrant tights with casual boots, stiletto pumps, or even flats for a look that will ensure your stay as the center of attention.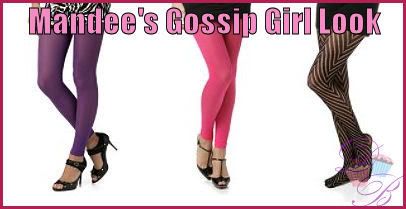 Wanna get the look for yourself? Check out Mandee locations for their basic footless tight in bright purple or hot pink ($8 each)! The striped knit tights shown are on sale for only $4! Not only that, but YouCast Corp. has given me and my readers an exclusive 20% off coupon off any purchase at Mandee.
What do you think of the fun tight trend, would you wear it?
Image Credits: Celebutopia.net

Networks:
Recent Posts:
Popular Tags:
Sponsors: