Browsing all articles tagged with Fashion Report
Did you see tonight's episode of Gossip Girl? We all knew Serena Van Der Woodsen was going to get in trouble with Tripp… it was only a matter of time. Regardless, in real life Blake Lively is living it up in high fashion styles and glamorous events. Blake's recent outfit choice here is turning heads and inspiring bloggers nationwide:
I guess Blake Lively's fashion here is inspired by the underwear-as-outerwear look… only she apparently goes braless. I am in love with the white blazer! If you've got it; flaunt it.
What do you think of this Marchesa outfit worn by Blake Lively at the New York premiere of The Private Lives of Pippa Lee?
Needless to say, I think Blake looks daring, bold, and lovely. Truthfully, it's no more revealing than a plunge neckline on a gown.
Do you think this look is inappropriate or stylish? Let me know!
Image Credits:
The Huffington Post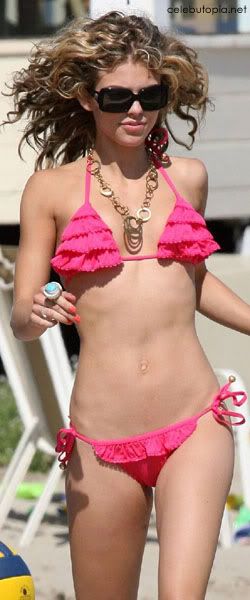 I happened to see AnnaLynne McCord's pink ruffled Juicy Couture bikini (Click image to enlarge) at my local Lord & Taylor the other day. Now, this was a very small, hot pink with gold accent bikini. Initially, I thought to myself, "So cute!" but then realized that unless you are a stick, like Miss McCord, these skimpy ruffles will not be overly flattering.
Luckily, there are some realistic and ruffled picks that I found while surfing Macy's website. Here are some by Kenneth Cole and Gottex, all under $100!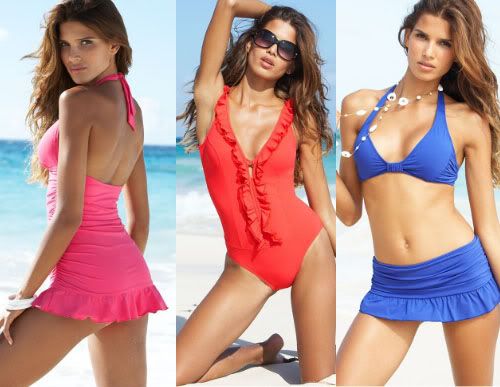 What do you think? Would you wear ruffles to swim?
Image Credits:
Celebutopia.net

Oh goodness. Look at Megan Fox's amazing purple dress! She looks great here at the World Premiere of Transformers: Revenge Of The Fallen.
Normally, I'm not a fan of Megan's seemingly huge ego and bitchy attitude, but I must say… the girl knows how to strut her stuff.
I absolutely adore the dress, her flowing locks, and the natural makeup. Who is Megan's stylist nowadays? Whoever it is, they should keep up the good work.
What do you think of this outfit?
Let me know!
Image Credits:
Celebutopia.net

I have created two looks for you prom goers out there! One is in an "alternative" black and red color scheme, and the other is a sultry turquoise look. If you are looking for a short dress to wear to prom, this one might be for you:
This turquoise number is sure to catch your crush's eye! This outfit is a bit more expensive, but you only go to prom once (or maybe twice), so it's well worth it.
What do you think of these looks? Would you wear them?

As the weather warms up, fashion is evolving into that summer style ladies love so much. This spring, we are going to be seeing a lot of bold colors and flirty details. Wondering what to wear on that date you have coming up? I have created a celebrity-inspired outfit suitable for a casual night on the town with friends or date look on a budget.
This sexy and fun dress from Baby Phat has feminine ruffles, but an edgy, one shoulder style that will have you turning heads! The tie at the waist accents your curves without being overly detailed. The bright watermelon shade is perfect for Spring into Summer, and will keep you looking hot!
I love Steve Madden shoes, and these wedges are no exception. Usually Steve Maddens fit my feet very well and are super comfortable. This pair brings in the bold ruffled accent from the dress I've chosen, but keeps it neutral in a pewter shade.
A colorful, organic styled stone bracelet finishes the look by pulling colors from the dress and shoes.
All this for under $150! What do you think of this look? Would you wear it?
Let me know!

Here are my picks for the best outfits and styles of this year's Oscar Fashion. My top two favorites were Evan Rachel Wood and Alicia Keys. They both looked amazing. I think honorable mention should go to Miley Cyrus (for a daring choice), Angelina Jolie, and Jennifer Aniston.
There were definitely some out-there outfits this year, but I thought overall these were the best outfits.
Am I missing anyone? Who were your favorites?
Image Credits:
Celebutopia.net



Networks:
Recent Posts:
Popular Tags:
Sponsors: