Browsing all articles tagged with Fashion Match
Oh, who doesn't love Marc Jacobs and Katherine Heigl? The Ugly Truth's gorgeous Katherine Heigl looks absolutely lovely in this casual outfit with an amazing Marc Jacobs tote. Said bag, unfortunately for us in the real world, totes it's own hefty price tag of $4,200. While yes, saving on such a bag would be an investment of grand proportions… I think for most of us, finding a replica is the best alternative.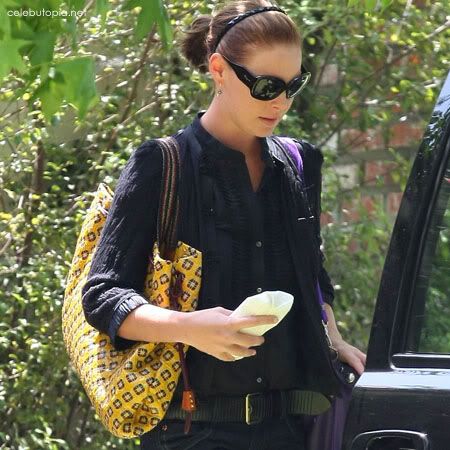 So, in honor of looks for less, I give to you this Dooney & Bourke Shadow Signature Jenna Bag. Although it does not carry the prestige of Marc Jacobs, Dooney & Bourke products are solid and will last you for seasons to come. The similar mustard-and-brown color scheme and tassles complete the look appropriately.
What do you think of this bag? Would you wear it?
Any closer matches you can think of?
Let me know!

Image Credits:
Celebutopia.net



Just thought I'd pass along this celebrity look for less featuring two fashionistas! The folks at
American Living
apparel have recreated this perfect summer look on the cheap.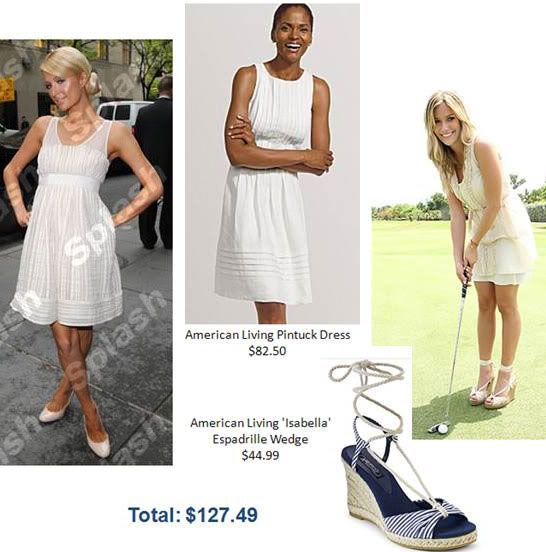 What's great about this look is that it's airy, fresh, classic and reasonably priced – which lets you keep some money in your pocket for a day trip to the boardwalk or for an ice cream treat.
What do you think, would you wear it?
Check out more American Living at a JC Penney near you!

Check out Miley Cyrus's concert outfit! Sporting a summery tank and skinny jeans, Miley performed as part of the Atlantis Live! concert series in Paradise Island, Bahamas.
I think Miley certainly is looking stylish and dressing appropriately for her age here. Check out these bargain finds that will get you looking fresh and young – all for an affordable price.
Women's Embroidered Boho Tank, Old Navy, $12.50
Birds in Flight Racerback, Forever 21, $10.80
Medallion Slouchy Tank, Charlotte Russe, $16.99
Where is your favorite place to shop for tanks in the summer? Would you wear Miley's look?
Let me know in the comments!

Getting back to my fashionista roots, today I have a look for less featuring rising star Annalynne McCord. This girl has a very interesting fashion sense, to say the least.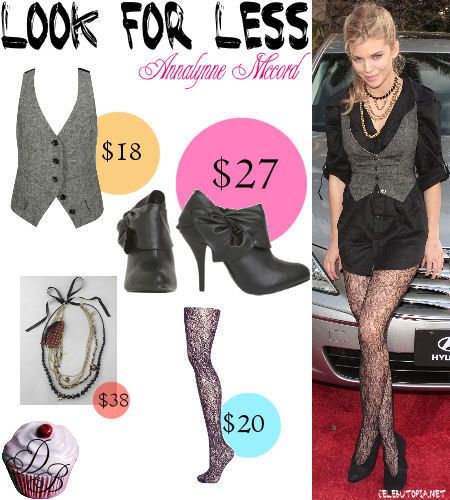 Here we have an eclectic outfit of hers that can easily be recreated on a budget. I've selected the following picks that showcase Annalynne's style. With nothing over $40, you too can wear the hottest trends like a celebrity!
What do you think of this look? Would you wear it?
Image Credits:
Celebutopia.net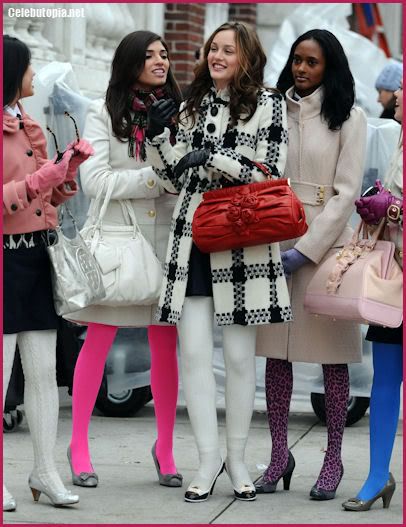 Speaking of Gossip Girl, it sure is shocking to see Blair's team of devious socialites wearing such vivid colors and patterns! All the better to stand out in a crowd, we say! You can pair these vibrant tights with casual boots, stiletto pumps, or even flats for a look that will ensure your stay as the center of attention.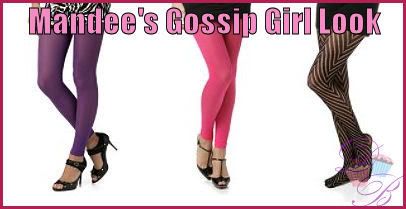 Wanna get the look for yourself? Check out Mandee locations for their basic footless tight in bright purple or hot pink ($8 each)! The striped knit tights shown are on sale for only $4! Not only that, but YouCast Corp. has given me and my readers an exclusive 20% off coupon off any purchase at Mandee.
What do you think of the fun tight trend, would you wear it?
Image Credits: Celebutopia.net

Long live the Fashion Match! I know I haven't posted one of these in a while, so I figured I should. Here is a recent picture of actress Elisha Cuthbert, featuring a shocking neon bag on a backdrop of black.
What I used:
A) Miss Me Collection Contrast Accented Waist Silk Blouse in Black, $79 at Revolve Clothing
I like it, what do you think?
Networks:
Recent Posts:
Popular Tags:
Sponsors: