Browsing all articles tagged with Clinique
Check out these great tips for looking young and vibrant at any age!  Professional makeup artist Susmta Patel shares her simple and quick makeup tricks that will make you look 10 years younger.
Lighten up.  Tinted moisturizers with luminescent particles or lightweight liquid foundations are best for lined skin.   Unlike pressed powder, which settles into wrinkles and makes the skin look even older, a light-reflective liquid formula creates the illusion of a glowing complexion.  Dolce Beauty Tip: Try Clinique Supermoisture Makeup, $24, which contains light-reflecting shimmer to smooth imperfections.
Blur the edges.  As we age, perfectly drawn eyeliner starts looking more dour than dramatic. Rimming your lids with an eye pencil will define the eyes and seem to plump lashes, but always smudge the line a bit afterward for a more flattering, soft-focus effect. And while a lip liner is a great tool for shaping the mouth, use the liner to fill in the whole lip so there isn't a hard edge.
Go light on lip color.  Dark colors can look harsh and accentuate age spots and other imperfections. A lip gloss – not too shiny – looks much fresher.
Don't be afraid of shimmer.  Formulas have evolved so much in recent years that they're not at all sparkly.  They just have a very subtle, softening effect.  According to Susmta, a dusting of shimmer shadow over the lids refracts light and brightens the eyes.
Stick to creamy blushes and shadows.  Older skin usually means dry skin, so creamy blushes and shadows are your best bet.   Also, powder blushes and shadows tend to settle into your fine lines and wrinkles, while creamier products "plump" up your skin.
Don't Go Skinny on the Eyebrows.  Don't start going crazy when tweezing your brows, the higher the arch doesn't mean more years are taken away.  Once you hit your 30s, you'll want to be careful not to over-pluck your eyebrows since brows are less apt to grow back if you excessively pluck.  Dolce Beauty Tip: Try Anastasia 5-Element Brow Kit, $65, complete with brow stencils, for a perfect brow look without the guesswork.
Read more about Susmta Patel after the jump…
Continue reading "Look 10 Years Younger Easily: Tips from Professional makeup artist Susmta Patel" »
Somewhat new on the teen scene, Victoria Justice (star of the Nickelodeon hit Victorious) is stunning!  She must have a dream hair and makeup team.  Below is an image of Victoria at the 42nd NAACP Image Awards.  Her flowing brown locks with warm caramel highlights are in casual loose waves, and she is sporting neutral yet elegant makeup for the occasion.
To look like Victoria Justice, try these makeup tips:
Neutral eyes in a soft, shimmering brown are enhanced with full on fringe.  Try Kiss Premium Eyelashes, $3.50, for easy application and a deep, lush look.
Soft rose cheeks shine with a hint of shimmer.  We like Milani Blush in Luminous, $6.50, to get that perfect hint of gold.
Be sure to line lips with a darker nude lip liner to get Victoria's well defined lip look.  Make Up For Ever Aqua Lip Waterproof Lipliner Pencil (Beige Brown 5C), $17, works great.
Last but not least, try a soft rose lipstick, like Clinique Different Lipstick in Sweet Honey, $14.50.
What do you think of Victoria's look?  Would you wear it?
Lip gloss pencils seem to be all the rage at the moment. Brands like Clinique, Tarte, and NARS have all taken ahold of this trend and ran with it, but what about the drugstore brands?  I'm happy to report that Milani has also created an adaptation of this crayon applicator with Milani Lip Flash Lip Gloss Pencil.
This easy-to-apply lip formula comes in eight shimmer colors that range from nude pinks to bold red and hot pink.  While it feels different from a traditional gloss, the texture can be likened to a shiny lightweight lipstick that applies with a bit more precision that a traditional tube.  Milani calls this "the convenience of a pencil with the application of a lipstick" – which is true, in theory.
I purchased the color "Hot Flash" (a bright, warm red with shimmer).  While, overall, I like it, my main gripe is that Milani claims that Lip Flash has an anti-feathering and nontacky formula.  I find this to be not entirely true, as I did experience some smudging/feathering with this product.  Your best bet in applying this product is to prep with a lip balm or liner to prevent smudging.  That kind of takes the ease out of it for "on the go" use, but for precise application with bold (almost opaque) shades, it isn't bad, especially not for only $7!
What do you think of Milani Lip Flash?  Have you tried it?
Clinique is one of my favorite brands, but I have never had much luck with their mascaras.  Granted, I've never actually purchased any of their mascaras; my experience is limited to what is provided in their free "gift with purchase" goody bags.
Lash Doubling Mascara in Black was included in one of the latest Clinique GWP bags that I received from a major department store while buying my favorite foundation, Even Better.  This mascara retails for $14, and honestly, I wouldn't buy it for that price.  There are so many other mascara options that perform better (in my opinion) and give you greater bang for your buck.
This isn't the worst mascara I've ever used, but certainly not the best.  I experienced some smudging throughout the day, particularly if I was rubbing my eyes, and for some reason the applicator wand (maybe this is just in the sample version) doesn't do much for my lashes.  I do like the fact that it is allergy tested and fragrance free, like all Clinique products.  I don't know why any company would feel the need to add fragrance to eye products!
All in all, Clinique Lash Doubling Mascara is an okay mascara that is fine in a pinch.  I wouldn't go out of my way to purchase this.
Have you tried Lash Doubling Mascara?  Let me know your thoughts.
As part of the latest Clinique GWP set from Macy's, I have been testing out a mini version of Clinique All About Eyes Serum De-Puffing Eye Massage.  I have been looking for a rollerball eye serum for quite some time now, but I didn't really like the idea of using Garnier Nutritioniste Skin Renew Anti-Puff Eye Roller or Olay Regenerist Anti-Aging Eye Roller because of their added fragrances or parabens.
Since I have only been using this product for a short time, I can't say much about long term use regarding dark circles or puffiness, but I have noticed that the rollerball mechanism feels very pleasant to use and cooling to the eye area without being irritating at all.  There is also caffeine in Clinique All About Eyes to help perk up skin.
I am not 100% sure if I would buy a full size of this eye serum, but I think that in comparison to the aforementioned eye serums, it is the best choice.  At $25.50 for 0.5fl oz, it is a bit pricier than some of the other alternatives.
What is your favorite eye serum?  Do you think the rollerball application is beneficial to eye products?
Amanda Peet looks lovely on the cover of
SELF Magazine
's December issue as Tracey Cunningham, Redken Creative Consultant for Color, used Redken Shades EQ Equalizing Color Gloss to update Amanda's look for the winter months.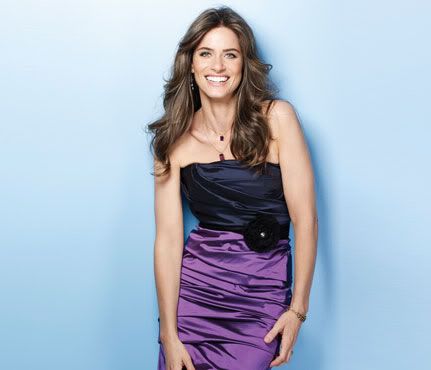 To achieve Amanda's shade, talk to your colorist about Tracey's formula for Amanda:
Prep with Redken Chemistry Strength Shot
Equal parts of Shades EQ 09N Cafe Au Lait, 09B Sterling, and 000 Crystal Clear Shades EQ
For highlights , ask for Up to 7 De-dusted Lightener
Redken Chemisty is a customized in-salon treatment utilizing advanced technology and salon professional expertise to meet consumers' specialized haircare needs. Redken Chemistry repairs, protects and conditions hair on regular salon visits or can be used as a strong foundation to prepare the hair for chemical services.
Redken Shades EQ is a demi-permanent color which provides healthy, shiny results, incredible conditioning with an amazing number of mixing possibilities. Shades EQ is used as a glaze, color refresher, and also color correction. Ingredients include acidic pH; no lift, non-ammonia formula; long-lasting colorants; wheat amino acids, and silicon
Visit Redken.com to find a salon in your area. If your readers have a question for Tracey, visit her Expert page and your question could be selected as Tracey's Question of the Month!
What do you think of Amanda's look?

Networks:
Recent Posts:
Popular Tags:
Sponsors: