Skincare doesn't have to cost a fortune. You can relax, pamper, and improve your skin's health at home with products from your own kitchen! Dr. Nina Naidu, board certified plastic surgeon and founder of
Anokha
shows us how: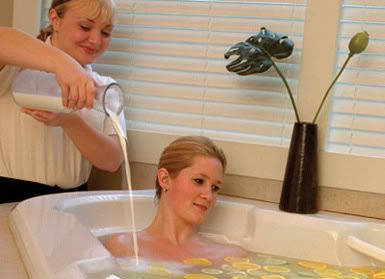 Dr. Nina Naidu says that she frequently uses the home remedies that her mother taught her, many of which provided the impetus behind her South-Asian-inspired product line. "I raid the dairy aisle for some of the best fresh skincare treats imaginable," says Dr. Naidu. Some of her favorite skin treatments come from the kitchen:
There is truly nothing more luxurious than

cold yogurt

for the face. It is an excellent cleanser that will not rob skin of its natural moisture and it will not irritate sensitive skin. Both milk and heavy cream also make great non-stripping cleansers for the face as well.

Milk baths

are an indulgence that everyone should be enjoying. Just pour a cup right into your bath water and let the milk proteins work their magic.
Put one to two drops of pure

almond oil

in water for a fantastic non-comedogenic moisturizer.
My favorite simple yet incredibly luxurious toner is easy to make by boiling a few

rose petals

in water. Next time someone sends you flowers, snip a few petals for your at-home spa needs!
Test these tips at home today! Your skin will thank you.

Thanks, BlueSky PR, for the tips.


1 Comment to "Spa at Home: Skincare Tips from Dr. Nina Naidu"
Networks:
Recent Posts:
Popular Tags:
Sponsors: