Recently the
Jersey Shore Premium Outlets
opened in my area, and I was super excited because I really wanted to go to the Estee Lauder Cosmetics Company Outlet (the nearest one otherwise is like 3 hours away). I just made a small purchase of Clinique Supermoisture Makeup and MAC Love Connection Eye Shadow while I was there, but I'm sure I'll be back for more shortly.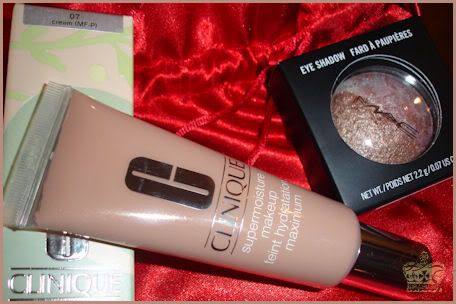 I love love love the Clinique Supermoisture Makeup. I was previously using Revlon's Colorstay for Combination/Oily skin and I think it was drying me out in areas that don't need drying. So now I use the Colorstay on my forehead and t-zone, and the Supermoisture on my cheeks, chin, nose, and other areas.
This Clinique product has mixed reviews on MakeupAlley because it seems that some people don't like the shimmer that is in there. I find that it is only noticeable when you swatch it on your hand in a certain light, and when you actually put it on and set with powder you can't really see it at all. The staying power was awesome on my skin (I only put it on the dry areas) and it just evened out my skin tone and made me look flawless. No breakouts and just a soft, healthy illumination. I don't care what other people say, I think it's a keeper!
As for the new CCO, I really liked the fact that they accept returns, because although the MAC Love Connection shadow swatched gorgeously, the perfect warm gold glitter/shimmer shade, I didn't really like it on my eyes. I think I'll be taking it back!
Have you made any hauls lately? Let me know!

Networks:
Recent Posts:
Popular Tags:
Sponsors: